Skip to Main Content
It looks like you're using Internet Explorer 11 or older. This website works best with modern browsers such as the latest versions of Chrome, Firefox, Safari, and Edge. If you continue with this browser, you may see unexpected results.
7 Wonders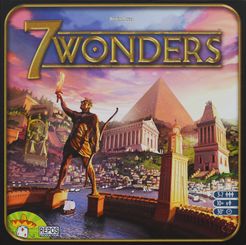 You are the leader of one of the 7 great cities of the Ancient World. Gather resources, develop commercial routes and affirm your military supremacy. Build your city and erect an architectural wonder which will transcend future times!
| | |
| --- | --- |
| Players | 2-7 |
| Time | 30 min |
| Theme | Ancient History, Civilization |
| Mechanics | Tactics, Strategy, Card drafting, Set collection |
Catalog
7 Wonders

by

Call Number: Board Games Shelf (First Floor) GAME 7 WONDERS

Publication Date: 2015

Game takes place over 3 Ages, each using one of 3 card decks. Each player uses 6 cards per Age to build their city and Wonder. At end of third Age, player with the most victory points wins.
WARNING: CHOKING HAZARD! Not for children under 3 years.
Title from container.
For 2-7 players.
Duration of play: 30 minutes.
International Gamers Awards winner, 2011.