Skip to Main Content
It looks like you're using Internet Explorer 11 or older. This website works best with modern browsers such as the latest versions of Chrome, Firefox, Safari, and Edge. If you continue with this browser, you may see unexpected results.
Catan (Settlers of Catan)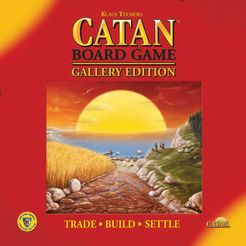 Players are recent immigrants to the newly populated island of Catan. Expand your colony through the building of settlements, roads, and villages by harvesting commodities from the land around you. The first player to achieve 10 points from a combination of roads, settlements, and special cards wins.
Catalog
Catan : trade, build, settle.

by

Call Number: Board Game Shelf GAME CATAN

Publication Date: 2015

"Your adventurous settlers seek to tame the remote but rich isle of Catan. Start by revealing Catan's many harbors and regions: pastures, fields, mountains, hills, forests, and desert. The random mix creates a different board virtually every game. No two games are the same! Embark on a quest to settle the isle of Catan"--Container.