Skip to Main Content
It looks like you're using Internet Explorer 11 or older. This website works best with modern browsers such as the latest versions of Chrome, Firefox, Safari, and Edge. If you continue with this browser, you may see unexpected results.
King of Tokyo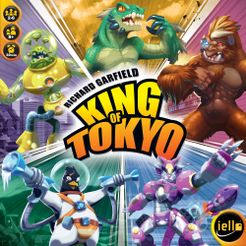 In King of Tokyo you take on the role of one of six monsters intent on destroying Tokyo, but you don't share well with others. You have six dice which you'll roll up to three times each (similar to Yahtzee) that will allow you to attack, refill your life, gain energy, or go for points. With two victory conditions, every game will play differently.
Catalog
King of Tokyo

by

Call Number: Board Game Shelf GAME KING OF TOKYO

Publication Date: 2017

Players of this game choose to play as mutant monsters, rampaging robots, or abominable aliens who battle each other. Players roll the dice and choose how to play the game--attack your enemies, heal your wounds, improve your monster, gain 20 victory points or eliminate you enemies to become the King of Tokyo!